Search 805 Homes
Moorpark
Homes for Sale in Moorpark, CA
Moorpark Real Estate Communities
Location:
Nestled to the north of the scenic Conejo Valley, Moorpark, California, enjoys a privileged location enhanced by its connectivity to key transportation routes. The city's strategic positioning benefits from its proximity to the well-traveled 23 and 118 freeways, with the latter renowned as Los Angeles Avenue. A mere 45-minute drive leads to the enchanting city of Santa Barbara, while the vibrant metropolis of Los Angeles is conveniently reachable within an hour's journey. Moorpark boasts its own dedicated train station, catering to both the needs of daily commuters and the wanderlust of travelers. With seamless access to Amtrak and Metrolink trains, Moorpark's location ensures that residents and visitors alike can traverse the region with ease, making the most of its accessible connections and embracing the allure of nearby destinations.
History:
Established in the year 1900, Moorpark, California, emerged as a vibrant community with a history steeped in intriguing origins. The town's inception was marked by the approval of the Moorpark Post Office application, a milestone that laid the foundation for its distinctive identity. The town's name, Moorpark, has been attributed to a tapestry of theories, each adding to its enigmatic allure. One prevailing theory draws a connection to the Moorpark apricot, once a flourishing presence in the region, while another intriguing possibility ties the name to the Scottish Moors, evoking the picturesque landscape that defines the area. This blend of historical narratives adds layers of richness to Moorpark's heritage. Notably, Moorpark officially attained city status through incorporation in 1983, marking a significant chapter in its evolution as a vibrant and thriving community that continues to embrace its unique past.
Population/Weather:
With a population of approximately 36,000 residents, Moorpark, California, boasts a vibrant community that thrives amidst its picturesque landscapes. The city is embraced by a temperate climate, graced by agreeable temperatures that contribute to a pleasant year-round atmosphere. Moorpark's commitment to safety has not gone unnoticed, as it proudly holds the 8th position on SafeWise's esteemed list of the safest cities in California. This recognition highlights Moorpark's dedication to providing a secure and welcoming environment for its residents, reinforcing its reputation as a place where both tranquility and community spirit flourish.
Schools:
Moorpark, California's educational landscape shines brightly, garnering well-deserved accolades on platforms like www.GreatSchools.org. A standout institution is Moorpark College, established in 1967, renowned for its exceptional Exotic Animal Training and Management Program, which draws students from far and wide. Moorpark's commitment to education is evident at the elementary level with schools like Arroyo West, Flory Academy of Sciences & Technology, Mountain Meadows, Peach Hill, and Walnut Canyon, each fostering a nurturing environment for young minds to thrive. The city's dedication to comprehensive education extends to middle schools, including Chaparral and Mesa Verde, where students continue to build a strong foundation for their academic journey. At the high school level, Moorpark offers a variety of pathways for excellence, with institutions like Moorpark High School and the High School at Moorpark College, both dedicated to empowering students with the knowledge and skills they need for a successful future.
Parks:
Nestled in the heart of California, Moorpark stands as a haven for outdoor enthusiasts with its impressive array of 19 parks. From the sprawling fields of Campus Canyon and Tierra Rejada Parks that welcome soccer, baseball, and lacrosse aficionados, to the courts of Mammoth Highlands Park designed for basketball and tennis enthusiasts, the city caters to a diverse range of sports. Pickleball enthusiasts find their niche at Arroyo Vista Community Park, while lovers of football and softball relish in the well-maintained fields of Poindexter Park. Amidst this vibrant landscape, Underwood Family Farms shines as a beacon of agrarian delight, offering visitors the chance to handpick a cornucopia of fresh fruits and vegetables while supporting the local farming community. Moorpark's dedication to both recreation and sustainable living is evident in its parks and farms, making it a truly exceptional destination.
Sports:
Sports enthusiasts in Moorpark, California, have a myriad of reasons to rejoice, with the city offering a rich tapestry of athletic pursuits. For those with a passion for golf, the landscape is adorned with prestigious courses such as Moorpark Country Club, Rustic Canyon Golf Course, and Tierra Rejada Golf Club, each providing an immaculate backdrop for golfing enthusiasts to indulge their love for the sport. Adding to the golfing allure, the Golf Development Complex provides a convenient driving range experience, strategically situated near the 23 freeway at Tierra Rejada. Whether it's a leisurely round of golf or a dedicated practice session, Moorpark's dedication to catering to sports aficionados is undeniable, making it a haven for those seeking both relaxation and recreation on the greens.
Employers:
Moorpark, California, thrives as a dynamic economic hub, anchored by a roster of prominent employers that shape the city's workforce landscape. Leading this charge is PennyMac Financial Services, a powerhouse with a workforce surpassing 1000 employees, holding the esteemed title of Moorpark's largest employer. Complementing this influential entity, the lineup includes stalwarts like Pentair Water Pool & Spa, renowned for its aquatic innovations, and Moorpark School District & College, a driving force in education. Muranaka Farm adds to the mix with its agricultural contributions, while Benchmark Electronics underscores Moorpark's technological prowess. Together, these employers not only contribute to the city's economic vitality but also reflect its diverse industries and commitment to growth, making Moorpark a destination where career opportunities flourish.
Events:
Moorpark, California, pulses with vibrant community spirit through its diverse lineup of city events that bring residents and visitors together in celebration. Throughout the year, the city's calendar sparkles with an array of annual gatherings that showcase its unique character. From the lively Country Days festival and the immersive American Civil War Reenactment that offer historical insights, to the artistic flair of the High Street Arts & Crafts Faire and the joyous Easter Egg Hunt that captivates young and old alike, Moorpark's events cater to a broad spectrum of interests. The city truly comes alive during the Summer Concerts & Movies in the Park series, offering musical and cinematic enchantment under the open sky. The 3rd of July Fireworks Extravaganza is a highly anticipated highlight, painting the night sky with breathtaking colors in celebration of Independence Day. Not to be forgotten, Moorpark College's Mud Run and Spring Spectacular contribute to the festive tapestry, fostering a sense of camaraderie and unity that defines the essence of Moorpark's community identity.
Restaurants:
Moorpark boasts a vibrant culinary scene, graced by a diverse selection of celebrated restaurants that resonate with both the local community and visitors. Among the city's culinary gems are M on High, Serendipity, Carrara Pastries, Wood Ranch BBQ, Lemmo's Grill, Natural Café, Lalo's Mexican, and Custom Pie. These establishments have earned their stripes by consistently delivering exceptional dining experiences that cater to a wide range of tastes and preferences. From M on High's innovative cuisine to Serendipity's delightful surprises, Carrara Pastries' delectable sweets, and Wood Ranch BBQ's mouthwatering barbecue, each restaurant offers a distinct flavor profile. Lemmo's Grill showcases Mediterranean delights, while Natural Café emphasizes health-conscious fare. Lalo's Mexican brings authentic flavors to the table, and Custom Pie allows patrons to craft their perfect pizza. Moorpark's dining scene is a true reflection of the city's diverse culinary influences, making it a destination where culinary exploration meets satisfaction.
Shopping:
Moorpark presents a shopping landscape that caters to various tastes and needs, with Moorpark Marketplace serving as a retail hub that draws locals and visitors alike. Anchored by Kohl's, the marketplace offers a diverse mix of stores, including household names like Michael's Crafts, T.J. Maxx, Smart & Final, Target, and Famous Footwear, making it a one-stop destination for shopping enthusiasts. Moreover, those seeking larger shopping experiences can explore nearby options such as the Oaks Mall in Thousand Oaks and the Simi Valley Town Center, both offering an extensive range of retail outlets and entertainment venues. Whether it's the convenience of Moorpark Marketplace or the larger-scale shopping centers in neighboring areas, Moorpark and its surroundings provide a seamless shopping experience that caters to every shopper's preferences.
Evening Hangouts:
As the sun sets in Moorpark, the city comes alive with a vibrant range of evening hangout spots and activities that cater to different preferences. Lucas Sellers Winery and Energren Brewing Company offer a relaxed ambiance for those seeking a taste of local libations, with The Alley conveniently nestled between them. M on High, a local favorite, adds a touch of sophistication to the evening scene. For those craving both music and culinary delights, The Ranch Restaurant at Tierra Rejada Golf Course provides an outdoor setting with live music, while Lucky Fools Pub offers indoor entertainment and a jovial atmosphere. The charm of "Old Town Moorpark," centered around High Street, beckons with a mix of businesses and restaurants, including the delightful "High Street Arts Center," a venue that hosts captivating performances. Whether it's savoring craft drinks, enjoying live music, or immersing oneself in the cultural vibrancy of the city, Moorpark's evenings are rich with opportunities for relaxation and enjoyment.
Real Estate:
Moorpark, California is a picturesque haven for real estate enthusiasts. Our city boasts a diverse range of residential tracts that cater to various lifestyles and preferences. Along the scenic Tierra Rejada Road, you'll discover a tapestry of communities, including Peach Hill, Steeple Hill, Northview, Buttercreek, Deauville, Mira Bella, Traditions, and Villagio. For those looking for modern charm, the Moorpark Highlands community offers an array of tracts off Spring Road. Among these, Country Club Estates stands as an exclusive gated community, offering luxurious homes nestled along the golf course. Further enhancing Moorpark's housing options, the Serenata community, located near the 23 freeway off Tierra Rejada Road, provides a gated retreat for discerning homeowners. If you're in pursuit of the latest developments, the gated Meridian Hills community off Moorpark Road presents the newest homes in the area. Explore our comprehensive real estate offerings and discover the perfect dwelling that suits your aspirations and desires in beautiful Moorpark.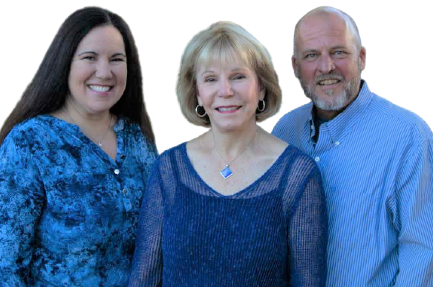 Meryll Russell, Sharron Parker & Jon Niemann
Have Questions?
Click the button below so we can show you our five star service.
Your Ventura County Realtor Team
CalDRE 01435748, 00900167 & 02104018
This information is for your personal, non-commercial use and may not be used for any purpose other than to identify prospective properties you may be interested in purchasing.
Display of MLS data is usually deemed reliable but is NOT guaranteed accurate by the MLS.
Buyers are responsible for verifying the accuracy of all information and should investigate the data themselves or retain appropriate professionals.
Information from sources other than the Listing Agent may have been included in the MLS data.
Unless otherwise specified in writing, Broker/Agent has not and will not verify any information obtained from other sources.
The Broker/Agent providing the information contained herein may or may not have been the Listing and/or Selling Agent.