Search 805 Homes
Thousand Oaks
Homes for Sale in Thousand Oaks, CA
Thousand Oaks Homes For Sale
Thousand Oaks Real Estate Communities
Thousand Oaks Open Houses
Location:
Thousand Oaks, a picturesque suburban enclave, is strategically positioned along the 101 freeway, nestled between Westlake Village and the Conejo Grade. As the second largest city in Ventura County, Thousand Oaks boasts a favorable location that offers convenient access to nearby urban centers. Situated approximately 45 minutes away from Santa Barbara and an hour's drive from Los Angeles, the city benefits from its proximity to these cultural and economic hubs. A distinctive feature of Thousand Oaks is its harmonious coexistence with nature, as it is snugly nestled against the majestic Santa Monica Mountains. This setting grants residents and visitors access to a remarkable 15,000 acres of publicly owned open space, providing ample opportunities for outdoor recreation and immersion in the natural beauty that surrounds the city.
History:
Thousand Oaks' history is rich and diverse, with its name originating from the abundance of oak trees that grace its landscape. The region was initially known as the Conejo Valley or the "Valley of Rabbits" by the Spaniards. In the late 19th and early 20th centuries, the area hosted a vibrant Norwegian community, which eventually became the site of California Lutheran University. The city itself was officially incorporated in 1964, marking a significant milestone in its development. During the late 1960s and 1970s, Thousand Oaks expanded its borders through annexation, encompassing two-thirds of neighboring Westlake Village and a substantial portion of Newbury Park. Notably, Jungleland USA, a private zoo and animal-themed park, played a pivotal role in shaping the city's identity during the 1920s. This attraction garnered attention and enticed Hollywood producers to the area, making it a hub for filmmaking. Over the years, countless movies have been filmed in Thousand Oaks, with notable examples including "The Birth of a Nation" (1915) at Jungleland USA and "Roaring Ranch" (1930) at the Stagecoach Inn. Thousand Oaks' history is characterized by its connection to nature, cultural diversity, and a significant place in the entertainment industry.
Population/Weather:
Thousand Oaks, with a population of around 130,000 residents, thrives as a vibrant community. The city is graced by a warm-summer Mediterranean climate that contributes to its pleasant living conditions throughout the year. Notably, Thousand Oaks holds a remarkable reputation for safety, earning the distinction of being ranked the 4th safest among cities with populations exceeding 100,000 residents, as per an annual report by the FBI. This recognition underscores the city's commitment to maintaining a secure environment for its residents. With one of the lowest crime rates in California, Thousand Oaks fosters a sense of security and well-being, making it an appealing destination for individuals and families seeking a peaceful and safe place to call home.
Schools:
Thousand Oaks boasts a renowned education system within the distinguished Conejo Valley Unified School District (CVUSD). With 4 high schools, 4 junior high/middle schools, and 19 elementary schools, the district is committed to providing exceptional learning opportunities. Impressively, 16 of these schools have earned the distinction of being named Distinguished California Schools, and several have been designated as National Blue Ribbon Schools, highlighting their commitment to academic excellence. The city's reputation for outstanding education has even led families to choose Thousand Oaks as their home specifically for its exceptional schools. Beyond the public education system, Thousand Oaks is also home to the esteemed California Lutheran University, the first 4-year university in Ventura County. Set on a picturesque 29-acre campus, the university offers a diverse array of educational opportunities with 34 majors and 28 minors across the College of Arts and Sciences, as well as schools of Business and Education. The city's commitment to education is a cornerstone of its vibrant and thriving community.
Parks:
Thousand Oaks is blessed with a wealth of approximately 50 parks, each offering a diverse range of amenities to cater to various recreational interests. These parks provide residents and visitors with picnic pavilions, ball fields, soccer fields, tennis courts, and more, ensuring ample opportunities for outdoor enjoyment. The city's commitment to providing recreational spaces is evident through the offerings provided by the Conejo Recreation and Park District, which facilitates a multitude of activities and events for the community at these local parks. Whether it's sports, relaxation, or family gatherings, Thousand Oaks' abundant parks contribute to a vibrant and active lifestyle for its residents.
Sports:
Thousand Oaks stands as a haven for sports enthusiasts, with a strong emphasis on outdoor activities and fitness. The city takes pride in its abundant open space, boasting an impressive 150 miles of trails suitable for hiking, biking, or leisurely strolls. Among these, Wildwood Trail stands out as one of the most popular options for nature lovers. For those inclined towards golf, swimming, and tennis, Sunset Hills Country Club provides a welcoming environment to indulge in these sports. Similarly, the Los Robles Golf Course is a favored destination among golfers. Recognized as one of the nation's top 50 bike-friendly cities, Thousand Oaks offers an inviting environment for cyclists, a reputation bolstered by its hosting of the final stages of the Amgen Cycling Tour, the largest and most recognized cycling event in the country. Additionally, the Goebel Senior Center and Teen Center contribute to the city's sports and recreational landscape by providing a range of activities that cater to both the older and younger generations of Thousand Oaks residents, ensuring a vibrant and active community for all.
Employers:
Thousand Oaks boasts a diverse and thriving economic landscape, with several prominent employers contributing to its dynamic workforce. At the forefront is Amgen, the city's largest employer, with an impressive workforce of over 5000 employees. The Oaks Mall, a bustling shopping hub, also stands as a significant contributor to the local job market. The Conejo Valley Unified School District, Los Robles Hospital, and California Lutheran University further solidify their roles as key employers in the community. Other notable companies that make their mark in the city's employment sector include Baxalta, Anthem, Skyworks, and Sage Publications. This robust array of employers reflects the growth and development Thousand Oaks has experienced over the years. From a modest 1,700 businesses in 1970 to a thriving hub with over 11,000 businesses by 1988, Thousand Oaks continues to foster a vibrant economic environment that benefits both its residents and the broader community.
Events:
Thousand Oaks comes alive with a myriad of engaging annual events that draw residents and visitors alike. The Rotary Street Fair, Conejo Valley Days, and Touch-a-Truck offer unique and entertaining experiences for the whole family. Pet lovers enjoy the Bark in the Park event, while fishing enthusiasts partake in the exciting Fishing Frenzy. The Flashlight Egg Hunt and Reign of Terror Haunted House add a touch of excitement to holidays like Easter and Halloween. The CLU Scandinavian Festival showcases vibrant cultural celebrations, while the Janss 4th of July Fireworks light up the sky with patriotic fervor. For food and wine connoisseurs, the Conejo Food & Wine Festival is a must-attend, while art enthusiasts revel in the Thousand Oaks Arts Festival. BrewFest satisfies the tastes of beer aficionados, and summer concerts in the park offer a delightful way to enjoy warm evenings with live music. Thousand Oaks' diverse array of annual events truly embodies the spirit of community engagement and celebration.
Restaurants:
Thousand Oaks boasts a vibrant culinary scene with a plethora of dining options to satisfy a range of tastes. Among the notable establishments, Mastro's Steakhouse offers an upscale dining experience for steak enthusiasts, while the Cheesecake Factory delights patrons with its diverse menu and signature cheesecakes. California Pizza Kitchen presents creative pizza creations, and Lazy Dog Café provides a relaxed atmosphere for enjoying comfort food. For those craving barbecue, Bandit's BBQ offers flavorful smoked dishes, while Cho Cho San excels in Japanese cuisine. Italian favorites can be found at Buca di Beppo, and Decker Kitchen delivers modern American fare. The ever-popular Eggs 'N' Things is a go-to spot for hearty breakfast and brunch options. With an abundance of culinary choices, Thousand Oaks is a haven for food enthusiasts seeking a memorable dining experience.
Shopping:
Thousand Oaks offers a diverse shopping scene, catering to a range of retail preferences. The Oaks Mall stands as the region's largest shopping destination, featuring prominent anchor stores like Nordstrom, Macy's, Dick's Sporting Goods, and J.C. Penney. This bustling mall boasts a minimal vacancy rate and provides a comprehensive shopping experience, complemented by a variety of dining options and even an AMC movie theater. Meanwhile, the Janss Marketplace offers an open-air shopping experience, housing a range of shops and restaurants, including Gold's Gym, Five Below, Old Navy, Nordstrom Rack, and more. The marketplace also hosts Wednesday night summer concerts, contributing to a lively and engaging shopping environment for both locals and visitors.
Evening Hangouts:
Thousand Oaks offers a vibrant array of evening activities to suit various interests. The city takes pride in its cultural scene, with the Thousand Oaks Performing Arts Center standing as a notable gem. With a seating capacity of 1800, it ranks among the largest performing arts centers between Los Angeles and San Francisco, hosting over 400 performances annually. The Hillcrest Center for the Arts is another hub for live theater productions, showcasing local talent. For those seeking entertainment and socializing, venues like The Mighty Axe, Sunset Terrace (complete with a bowling alley), and Dave & Buster's at the Janss Marketplace offer enjoyable options. Crown & Anchor, a local British pub, offers live music to accompany its welcoming atmosphere. Nature enthusiasts can unwind at The Stonehaus, an idyllic outdoor spot with firepits, vineyard views, and local music entertainment, while Nabu Wines, a local winery, invites visitors to enjoy live music during weekends. These diverse options contribute to a vibrant and fulfilling evening experience in Thousand Oaks.
Real Estate:
Thousand Oaks real estate offers a plethora of attractive neighborhoods, each with its own unique charm. Prospective residents can explore a range of tracts and subdivisions, including Lang Ranch featuring the Brock Collection, Cobblestone, Eagleridge, Hidden Creek, Oakcrest, Oakcreek, and Verdigris Homes for Sale. Chanteclair, Kevington, Lynn Ranch, Lynnmere, Sunset Hills, and Wildwood are among the other notable neighborhoods that contribute to the diverse housing options in the city. With a variety of well-established communities and modern developments, Thousand Oaks provides a wide array of choices for those seeking their ideal home.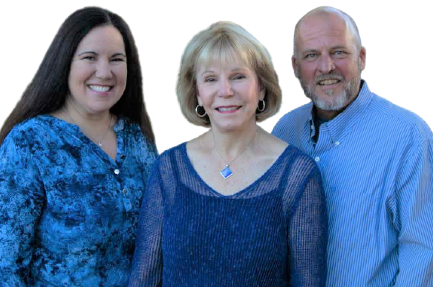 Meryll Russell, Sharron Parker & Jon Niemann
Have Questions?
Click the button below so we can show you our five star service.
Your Ventura County Realtor Team
CalDRE 01435748, 00900167 & 02104018
This information is for your personal, non-commercial use and may not be used for any purpose other than to identify prospective properties you may be interested in purchasing.
Display of MLS data is usually deemed reliable but is NOT guaranteed accurate by the MLS.
Buyers are responsible for verifying the accuracy of all information and should investigate the data themselves or retain appropriate professionals.
Information from sources other than the Listing Agent may have been included in the MLS data.
Unless otherwise specified in writing, Broker/Agent has not and will not verify any information obtained from other sources.
The Broker/Agent providing the information contained herein may or may not have been the Listing and/or Selling Agent.