Search 805 Homes
Ventura
Homes for Sale in Ventura, CA
Ventura Real Estate Communities
Location:
Ventura, officially known as the City of Buenaventura, graces the Pacific Ocean coastline, easily accessible via the 101 freeway. Positioned just a short 20-minute drive from Santa Barbara and an hour and a half away from Los Angeles, Ventura appeals to both commuters and vacationers. The city's train stations facilitate convenient travel, serving the Metrolink commuter rail system and Amtrak's Pacific Surfliner. As a sought-after tourist destination, Ventura boasts exquisite beaches, upscale resorts, and historical landmarks. Downtown Ventura shines with the Mission San Buenaventura, art museums, galleries, wine bars, breweries, dining spots, shopping, and the renowned Rubicon Theater. Ventura Harbor adds maritime charm, hosting fishing boats, seafood restaurants, and the lively Ventura Harbor Village retail center. Preserving heritage, the Olivas Adobe, an early "California Rancho" style home, is now a museum and performing arts venue, showcasing the city's rich history.
History:
Ventura's history is deeply intertwined with its Spanish colonial origins. Mission San Buenaventura, established by Junípero Serra in 1782, holds a significant place in the city's past. The Rancho Ex-Mission San Buenaventura, a vast 48,823-acre land grant encompassing downtown Ventura, played a pivotal role in shaping the region's development. The iconic Ventura Pier, constructed in 1872, stands as a testament to the city's maritime heritage and was once the longest wooden pier in California. The year 1919 marked the commencement of the Ventura Oil Field, which eventually became a major player in the region's economy, producing a peak of 90,000 barrels per day. These historical landmarks and events reflect the rich tapestry of Ventura's past and its evolving significance throughout the years.
Population/Weather:
With a population of approximately 110,000 residents, Ventura is a vibrant coastal city that benefits from its Mediterranean climate. The city's proximity to the Pacific Ocean ensures a pleasant climate characterized by mild winters and comfortable summers, with the sea breeze playing a crucial role in moderating temperatures. This climate fosters a welcoming environment for residents and visitors to enjoy outdoor activities year-round.
Schools:
Ventura takes pride in its diverse and comprehensive educational system, catering to students of all ages. The city is home to a total of 14 elementary schools, providing a strong foundation for young learners. Additionally, Ventura offers 4 Kindergarten through 8th grade schools, fostering a seamless transition between primary and middle school education. The city is equipped with 4 junior high/middle schools, offering students a supportive environment during their crucial adolescent years. At the high school level, Ventura Unified School District operates 5 exceptional institutions: Ventura High School, Buena High School, Foothill Technology High School, Pacific High School, and El Camino High School, each providing unique academic and extracurricular opportunities. As a testament to its commitment to education, Ventura also boasts St. Bonaventura High School as a reputable private school option. This array of educational institutions reflects Ventura's dedication to nurturing the academic growth and personal development of its residents.
Parks:
Ventura is renowned for its abundant green spaces, with the Parks Division taking care of 39 traditional parks spanning over 600 acres, providing residents and visitors with ample opportunities for outdoor recreation and relaxation. These parks offer a diverse range of experiences, ensuring there's something for everyone to enjoy. From scenic hiking trails that offer panoramic views of the coastline to inviting picnic areas equipped with BBQ grills situated near the beach, Ventura's parks cater to various interests and preferences. Whether you're seeking a peaceful nature escape or a lively gathering spot, the city's parks provide the perfect setting to connect with the outdoors and the community.
Sports:
Ventura is a haven for outdoor enthusiasts, offering a plethora of sports and activities to engage in. From basketball, softball, and baseball to soccer, skateboarding, and fishing, residents can choose from an array of options to stay active and have fun. The city's proximity to the Pacific Ocean makes it an ideal destination for water-related sports like sailing and swimming. Tennis and pickleball enthusiasts can also enjoy well-maintained courts throughout the area. For golf aficionados, Ventura boasts two exceptional municipal golf courses, Buenaventura Golf Course and Olivas Links, each equipped with a driving range and chipping bunker. In fact, Olivas Links garnered recognition from Golf Week Magazine in 2009 as one of the top 10 municipal golf courses in the nation, solidifying Ventura's reputation as a prime destination for sports and recreation.
Employers:
Ventura boasts a diverse range of top employers that contribute to its thriving economy. Notably, the renowned outdoor clothing manufacturer Patagonia has its headquarters situated in Ventura, embodying the city's connection to nature and outdoor lifestyle. Another notable company with its roots in Ventura is Petunia Pickle Bottom, a prominent diaper bag manufacturer. The Barna Group, a research and resource company, has found its home near downtown Ventura, while The Trade Desk, a pioneering force in advertising on streaming services, traces its beginnings to Ventura Ventures Technology Center. Remarkably, The Trade Desk stands as the second largest publicly traded company in Ventura County, emphasizing the city's role in innovation. However, the largest employer in Ventura remains the County of Ventura, employing over 8000 individuals. The Ventura Unified School District follows closely, with nearly 3000 employees, while Community Memorial Health System contributes significantly with over 2000 employees, collectively reflecting the diversity and strength of Ventura's employment landscape.
Events:
Ventura's vibrant community comes alive through a diverse array of annual events that captivate both residents and visitors alike. The Gold Coast Pirate Fair adds a touch of adventure, while the Ventura County Fair serves as a cherished tradition, celebrating local culture and entertainment. The Strawberry Festival brings the sweetness of the season, and the Winter Wine Walk offers a delightful blend of wine and festive spirit. The Ventura Harbor Parade of Lights illuminates the waterfront with enchanting displays, and the Holiday Street Festival infuses the town with holiday cheer. The Harvest Festival showcases the bounty of the region, while the July 4th Street Fair & Parade commemorates the nation's independence in style. Music Under the Stars creates melodic evenings, and the Olivas Adobe Rancho Days & Candlelight Tours offer a glimpse into the city's historic past. These events collectively showcase Ventura's dynamic spirit and create lasting memories for everyone who participates.
Restaurants:
Ventura's culinary scene is a delightful tapestry of flavors, offering an array of popular restaurants that cater to various palates. From the coastal charm of Lure Fish House and the tropical ambiance of Aloha Steakhouse to the mouthwatering barbecued delights of Wood Ranch BBQ, the options are diverse. Brophy Brothers and Beach Fish House bring the ocean's bounty to the table, while California Pizza Kitchen satisfies with its signature creations. Café Nouveau and Café Fiore offer a taste of European-inspired cuisine, and Casa Bella Prime Steak & Seafood elevates dining experiences with its succulent offerings. Rumfish y Vino, Prime Steakhouse, Water's Edge, Finney's Crafthouse, The Six Chow House, and Café Zack add to the tapestry with their distinct culinary styles, making Ventura a haven for food enthusiasts seeking unforgettable dining adventures.
Shopping:
Ventura offers a diverse shopping experience that caters to a range of preferences. The Pacific View Mall stands as a shopping haven, boasting a delightful mix of stores and anchored by well-known retailers such as Macy's, J.C. Penney, and Target. Along the picturesque waterfront, the Ventura Harbor Village offers a charming collection of boutique-style shops, inviting visitors to explore unique finds. Downtown Ventura adds a touch of vintage charm with its array of consignment and thrift stores, where hidden treasures await discovery. For those with an eye for nostalgia, the Ventura Antique Market presents a treasure trove of possibilities. With these varied options, shopping in Ventura becomes a delightful adventure, offering something for everyone to explore and enjoy.
Evening Hangouts:
Ventura comes alive with a vibrant nightlife, offering a plethora of options for evening entertainment. Topa Topa Brewing Company beckons beer enthusiasts with its craft brews, while Ventiki Tiki Lounge and Lanai transports guests to a tropical oasis with its island-inspired ambiance. Paddy's Cocktail Lounge provides a cozy atmosphere for those seeking classic cocktails and friendly conversation. Music lovers can head to The Grape, where live jazz performances create a soothing backdrop. Sing Time Karaoke invites the musically inclined to take the stage and showcase their vocal talents, while 1901 Speakeasy offers a touch of nostalgia with its hidden charm reminiscent of the Prohibition era. With these diverse choices, Ventura's evenings are filled with opportunities to relax, socialize, and immerse oneself in the city's lively after-hours scene.
Real Estate:
Ventura's real estate landscape offers a diverse array of neighborhoods and tracts that cater to various preferences and lifestyles. Among these sought-after communities are Ventura Keys, known for its waterfront properties, and Todd Ranch, offering a family-friendly environment. Stonehedge presents a serene atmosphere, while Seaview Hills showcases panoramic ocean views. The Presidential neighborhood exudes charm, and Pierpont boasts coastal living at its finest. Park Row and Pacific Breeze provide comfortable residential options, and Key Island Pacesetter offers a unique island vibe. Hobson Heights and Concord feature historic charm, while Chestnut and Buenaventura Gardens offer welcoming residential enclaves. With this assortment of neighborhoods, Ventura's real estate market provides an array of choices for prospective homeowners seeking their ideal living spaces.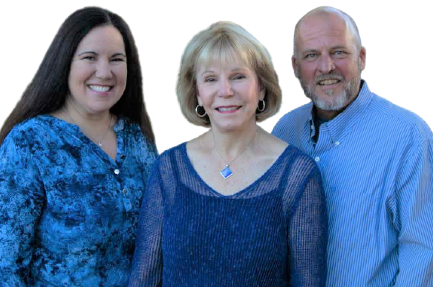 Meryll Russell, Sharron Parker & Jon Niemann
Have Questions?
Click the button below so we can show you our five star service.
Your Ventura County Realtor Team
CalDRE 01435748, 00900167 & 02104018
This information is for your personal, non-commercial use and may not be used for any purpose other than to identify prospective properties you may be interested in purchasing.
Display of MLS data is usually deemed reliable but is NOT guaranteed accurate by the MLS.
Buyers are responsible for verifying the accuracy of all information and should investigate the data themselves or retain appropriate professionals.
Information from sources other than the Listing Agent may have been included in the MLS data.
Unless otherwise specified in writing, Broker/Agent has not and will not verify any information obtained from other sources.
The Broker/Agent providing the information contained herein may or may not have been the Listing and/or Selling Agent.