Search 805 Homes
Oak Park
Homes for Sale in OakPark, CA
Oak Park Real Estate Communities
Location:
Positioned gracefully north of Agoura Hills and to the south of Simi Valley, Oak Park holds a distinctive allure as an appealing and highly desired community. Its strategic placement ensures convenient access, allowing residents to reach Malibu within a mere half-hour drive and Los Angeles within approximately an hour. Remarkably, Oak Park claims the distinction of being the largest unincorporated community in Ventura County, solidifying its significance in the region. Nestled within this serene setting, residents are rewarded with a harmonious blend of natural beauty and the convenience of nearby urban centers, making Oak Park a truly captivating and accessible location to call home.
History:
Oak Park, California, has a rich history that dates back to its emergence in the late 1960s. The community's origins can be traced to the concerted efforts of the Metropolitan Development Corporation, which acquired the land from the notable Jim & Marian Jordan, renowned for their iconic roles in the radio show "Fibber McGee and Molly." Initially encompassing a portion of Rancho Simi, Oak Park's historical roots run deep, reflecting its connection to the region's past. The unoccupied land that persists to this day falls under the jurisdiction of the Rancho Simi Recreation and Park District, contributing to the area's communal and recreational offerings. Remarkably, Oak Park has frequently served as a picturesque backdrop for the silver screen, often becoming the canvas for movie studios, particularly during the filming of westerns and other cinematic productions, adding an intriguing layer to its historical narrative.
Population/Weather:
Oak Park, California, is a vibrant community that resonates with approximately 14,000 residents. The region's climate is characterized by a delightful blend of warmth and moderation, with temperatures slightly higher than those in the neighboring Conejo Valley. This climate offers an ideal balance, allowing residents to enjoy the outdoors year-round. The community's appeal is further emphasized by its consistent presence on various city rankings, often recognized for its strong sense of community, high-quality schools, and desirable living environment. Oak Park's popularity among families seeking an exceptional quality of life, coupled with its pleasant weather and positive rankings, solidifies its status as a cherished and coveted place to call home.
Schools:
The Oak Park School District is widely recognized as one of the most coveted educational systems in the region. The schools within this district earn commendable rankings on www.GreatSchools.org. Established in 1977 after seceding from the Simi Valley School District, the Oak Park Unified School District has maintained a strong reputation. Oak Park High School offers an array of sports including baseball, boys' and girls' basketball, cheerleading, Cross Country, dance, football, golf, lacrosse, boys' and girls' soccer, softball, boys' and girls' tennis, track and field, and boys' and girls' volleyball. Depending on the sport, Oak Park competes in the Tri-Valley and Frontier League. The allure of Oak Park extends to its school system, drawing many residents due to its impressive test scores and small teacher-to-student ratio within classrooms.
Parks:
Oak Park, California, boasts a collection of ten diverse and inviting parks that enrich the community's outdoor experience. Each park presents its own unique charm, catering to a wide range of recreational interests. Whether it's the serene ambiance of Mae Boyar Park, the family-friendly environment of Deerhill Park, or the scenic beauty of Oak Canyon Park, residents and visitors can find the perfect setting for relaxation and activity. The array of amenities across these parks includes playgrounds, sports courts, open green spaces, and picnic areas, fostering a sense of community engagement and enjoyment. Oak Park's parks, like Indian Springs Park and Chaparral Park, provide not only respite but also opportunities for outdoor sports and leisure activities. The diverse landscapes and facilities make these parks cherished destinations for families, friends, and individuals seeking to embrace the natural splendor of Oak Park.
Sports:
Oak Park, California, presents a paradise for both golf enthusiasts and outdoor adventurers, with a range of golf courses and an expansive network of hiking/biking trails to explore. Golf aficionados have a plethora of options, including the scenic Lake Lindero Country Club, the prestigious North Ranch Country Club, the picturesque Sunset Hills Country Club, the inviting Westlake Village Golf Course, the sprawling Tierra Rejada Golf Club, and the pristine Wood Ranch Golf Club. Each course offers a unique golfing experience set against the backdrop of the area's stunning landscapes. Complementing the golfing scene, Oak Park boasts an array of hiking and biking trails that wind through its scenic surroundings. From the serene paths of Oak Canyon Park to the rustic trails of Medea Creek Park, outdoor enthusiasts can immerse themselves in the natural beauty while engaging in invigorating activities.
Events:
Nestled in Ventura County, Oak Park, California, stands as a tight-knit and welcoming community renowned for its charming atmosphere. Marked by a strong sense of unity, Oak Park fosters connections among its residents through a plethora of local events, often spearheaded by its esteemed schools. Embracing the spirit of togetherness, the community hosts a delightful Summer Concert in the Park, providing a platform for friends and families to gather and enjoy music under the open sky. Additionally, the nearby Reyes Adobe Days festival captivates visitors with its engaging celebrations, reflecting the rich cultural heritage of the region. Oak Park's intimate environment and its commitment to fostering connections through events showcase its dedication to creating a warm and vibrant community spirit.
Restaurants:
Oak Park, California, boasts a delectable array of dining establishments that cater to a diverse range of culinary preferences. From the rustic charm of Rustico and the inviting ambiance of Park Restaurant to the authentic flavors of Margaritas Mexican Grill and the sophisticated offerings of Cork Dork, the dining scene is as varied as it is enticing. For those seeking a taste of international cuisine, Exotic Thai delights with its vibrant Thai flavors, while Breakfast Café and Café Sapientia cater to early morning cravings with delectable breakfast options and artisanal coffee. Culinary experiences extend to sweet treats as well, with Tifa Chocolate & Gelato and Crumbl Cookies offering delightful dessert experiences that round off meals in style. With a blend of local favorites and diverse culinary choices, Oak Park's restaurants offer a gastronomic journey that reflects the community's vibrant and evolving food scene.
Shopping:
Shopping in Oak Park, California, offers a mix of convenience and variety, catering to the diverse needs of its residents. The Shoppes at Westlake Village is a bustling outdoor shopping center that's anchored by Target, drawing many Oak Park residents to explore its array of small boutiques and inviting restaurants. This hub serves as a local go-to for everyday essentials and enjoyable outings. For a more expansive shopping experience, Oak Park residents often venture to the Westfield Topanga Shopping Center or the Oaks Mall in Thousand Oaks. These renowned shopping destinations provide a plethora of options, from renowned brands to specialty stores, offering a comprehensive shopping experience that caters to different preferences and interests.
Evening Hangouts:
Evenings in Oak Park, California, offer a range of enticing options to unwind and savor the night. With its proximity to Westlake Village, residents have easy access to an array of delightful activities. For a lively night out, places like Bogie's and Stonhaus near the Westlake Inn create a perfect ambience to relish music and drinks by the cozy fire. The scene extends to Figueroa Mountain Brewing Company, where craft beer enthusiasts can enjoy their favorite brews, and Nabu Wines, a charming spot that not only offers wines but also hosts live musical performances. Whether it's the allure of music, the inviting warmth of a fire-lit atmosphere, or the chance to explore local beverages, Oak Park and its neighboring Westlake Village provide a myriad of evening options that make every night memorable.
Real Estate:
Oak Park, California's real estate landscape is consistently dynamic, fueled in part by its esteemed school ratings that attract homebuyers seeking top-tier education for their families. The market's appeal is further amplified by the diverse range of neighborhoods it offers. Among the notable residential tracts, Chambord, Regency, and Morrison Estates at Sutton Valley stand out as the largest and most sought-after communities in Oak Park. These neighborhoods offer a blend of spacious living and serene surroundings. Other well-regarded subdivisions such as Bent Tree, Capri West, Country Glen, Hillcrest Pointe, Monte Carlo, and Shadow Ridge contribute to the town's real estate vibrancy. The allure of Oak Park's neighborhoods, coupled with its high-ranking schools, creates a harmonious synergy that continually makes the real estate market a hub of activity and desirability.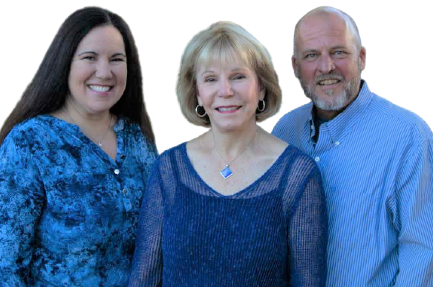 Meryll Russell, Sharron Parker & Jon Niemann
Have Questions?
Click the button below so we can show you our five star service.
Your Ventura County Realtor Team
CalDRE 01435748, 00900167 & 02104018
This information is for your personal, non-commercial use and may not be used for any purpose other than to identify prospective properties you may be interested in purchasing.
Display of MLS data is usually deemed reliable but is NOT guaranteed accurate by the MLS.
Buyers are responsible for verifying the accuracy of all information and should investigate the data themselves or retain appropriate professionals.
Information from sources other than the Listing Agent may have been included in the MLS data.
Unless otherwise specified in writing, Broker/Agent has not and will not verify any information obtained from other sources.
The Broker/Agent providing the information contained herein may or may not have been the Listing and/or Selling Agent.