Search 805 Homes
Simi Valley
Homes for Sale in Simi Valley, CA
Simi Valley Homes For Sale
Simi Valley Real Estate Communities
Location:
Nestled in the picturesque landscape, Simi Valley is a captivating suburban enclave positioned to the north of the Conejo Valley and to the east of the San Fernando Valley, accessible via the 23 and 118 freeways. Enveloped by the scenic Santa Susana Mountains and Simi Hills, the city boasts a stunning natural backdrop that enhances its charm. Situated just around 45 minutes away from the bustling metropolis of Los Angeles, Simi Valley offers a serene escape while maintaining convenient access to urban amenities. Commuters and vacationers alike benefit from the city's own train station, accommodating Amtrak and Metrolink trains, facilitating seamless travel for work and leisure. With its tranquil setting and strategic location, Simi Valley presents an inviting combination of suburban tranquility and urban accessibility.
History:
Simi Valley's history is a tapestry woven with tales of Spanish land grants, ranching endeavors, and even the silver screen. The story begins with Rancho Simi, an expansive 113,000-acre Spanish land grant bestowed upon the Pico family by the Governor in 1795. The heart of this ranch was the Simi Adobe-Strathearn House, which functioned as the ranch's headquarters. Over the years, the land saw the raising of sheep, cattle, and grain, eventually transitioning to the cultivation of citrus, walnuts, and apricots. The city's landscape has also served as the backdrop for numerous television series, filmed on sites like the former Corriganville Movie Ranch and Fort Apache film set, as well as Big Sky Ranch, the iconic locale for "Little House on the Prairie." Even during Chumash times, the area's significance was noted, with Elephant Rock at Sycamore Park serving as shelter. As time progressed, this spot evolved into a cherished destination for early pioneer families, who frequented it for leisurely outings and picnics. One of Simi Valley's most illustrious chapters revolves around the Reagan Library, prominently featuring Air Force One, perched atop a hill with breathtaking vistas. This iconic site served as the final resting place for President Ronald Reagan in 2004, encapsulating a unique blend of history, nature, and American heritage.
Population/Weather:
Simi Valley, home to around 125,000 residents, embraces a Mediterranean climate characterized by distinct fluctuations between daytime and nighttime temperatures. This climatic diversity adds to the allure of the city's environment. Notably, Simi Valley has garnered recognition for its commitment to safety, securing the 27th spot on SafeWise's list of safest cities in California. The city's ranking reflects its dedication to providing a secure and peaceful environment for its residents. Moreover, Simi Valley has earned a distinct political identity, being twice ranked as the 18th most conservative city in the United States. These accolades underscore Simi Valley's dedication to its community's well-being, safety, and values, shaping its identity as a vibrant and secure place to call home.
Schools:
Simi Valley's education system consistently receives acclaim, evident through its high rankings on platforms like www.GreatSchools.org. Notably, Santa Susana High School achieved distinction by earning a silver medal in US News and World Report's "Top 500 Schools in America" for both 2013 and 2014. Simi Valley High School's excellence is also recognized, being listed among MSNBC's Top 1000 High Schools nationwide. The city takes pride in its comprehensive educational offerings, comprising five high schools, including Santa Susana High School and Simi Valley High School, three middle schools, and eighteen elementary schools. This robust network of educational institutions underscores Simi Valley's commitment to fostering a strong academic foundation for its students across all levels, solidifying its reputation as a community dedicated to educational excellence.
Parks:
Simi Valley boasts an impressive collection of nearly 40 parks, each offering a diverse array of amenities to cater to a wide range of recreational interests. From tranquil picnics to active sports, these parks provide spaces for various activities. Amenities such as picnic pavilions create perfect spots for outdoor gatherings and leisurely meals. Baseball and softball fields cater to those who enjoy team sports, while soccer fields provide ample space for lively matches. Tennis enthusiasts have access to courts for friendly matches and skill-building. With an emphasis on fostering an active and engaging community, these parks in Simi Valley, including Rancho Tapo Community Park, Arroyo Park, and Rancho Madera Community Park among others, offer a variety of amenities that encourage residents to embrace the outdoors and embrace a healthy and active lifestyle.
Sports:
Simi Valley offers a diverse range of sports and recreational activities for its residents to enjoy. Golf enthusiasts can perfect their swing at top-notch courses like Simi Hills Golf Course, Sinaloa Golf Course, and Wood Ranch Golf Club, where they can enjoy challenging fairways and breathtaking views. For those seeking a different kind of challenge, Harley's Simi Bowl provides a vibrant bowling experience, offering a fun and social way to spend leisure time. Simi Valley also caters to various sports interests, including soccer, baseball, softball, tennis, and more, with its numerous parks and recreational facilities. Whether it's a round of golf on a scenic course or a competitive game of bowling, Simi Valley provides a variety of sports and leisure options that cater to the diverse interests of its residents.
Employers:
Simi Valley's economic landscape is anchored by a range of notable employers that contribute to the city's thriving workforce. The Simi Valley Unified School District stands as the largest employer, employing around 2000 individuals who play a crucial role in shaping the education of the community's youth. Additionally, companies like Milgard Windows and Doors and Polytainer provide valuable employment opportunities for local residents. The city's primary industry revolves around machinery, tools, and metal, forming the backbone of its manufacturing sector. Simi Valley's industrial zones are also home to a concentration of industries such as lumber and wood products, food production, plastic manufacturing, apparel and textiles, and minerals. This diverse mix of industries underscores Simi Valley's commitment to providing a broad range of job opportunities and supporting a dynamic and thriving local economy.
Events:
Simi Valley is a hub of vibrant annual events that provide residents with a diverse array of entertainment and community engagement opportunities. The city's event calendar is brimming with excitement, featuring highlights like the Round Up celebration, the Cajun & Blues Music Festival that immerses attendees in lively tunes and flavors, and the 4th of July Carnival that ignites the spirit of patriotism and fun. Concerts at the Parks offer a harmonious escape for music lovers, while the Simi Valley Days Parade & Carnival and the Halloween Carnival bring the community together in festive and spooktacular ways. As the year winds down, the Holiday Tree Lighting event sets the stage for warm holiday gatherings and festive cheer. These annual events foster a sense of camaraderie, celebration, and unity among Simi Valley residents, making the city an engaging and lively place to call home.
Restaurants:
Simi Valley is a culinary haven offering a diverse array of dining experiences to cater to various tastes. Food enthusiasts can indulge in a delightful range of flavors at some of the city's beloved restaurants. From the delectable offerings at Larsens Grill and the familiar comfort of California Pizza Kitchen to the authentic Mexican cuisine at Don Cuco's and the satisfying bites at Corner Bakery, Simi Valley has something to satisfy every palate. For those seeking a unique dining experience, Firehouse Café and Market Broiler offer their own distinct culinary delights. Viva La Pasta is a haven for pasta lovers, while Junkyard Café offers a quirky ambiance and delicious eats. Red's BBQ and Sutter's Mill Steakhouse serve up mouthwatering meats, and Yolanda's is a local favorite for Mexican fare. Old Susana Café and Millie's add to the city's culinary tapestry with their own special offerings. Simi Valley's restaurant scene showcases a wide spectrum of flavors, ensuring that residents and visitors alike can savor a variety of culinary delights.
Shopping:
Simi Valley offers a diverse shopping experience that caters to a range of needs and interests. The Simi Valley Town Center stands as a prominent shopping destination, offering an outdoor mall atmosphere anchored by Macy's. Beyond shopping, the center provides a comprehensive entertainment experience with its movie theater, allowing visitors to enjoy the latest films. Shoppers can explore a variety of options, from clothing and accessories at Marshalls and Five Below to wellness services at Mi Spa. The Simi Valley Town Center also boasts a selection of popular restaurants that provide an opportunity for shoppers to refuel and enjoy a delectable meal. With its mix of retail stores, entertainment offerings, and dining options, Simi Valley's shopping scene ensures that residents and visitors have access to a well-rounded and enjoyable shopping experience.
Evening Hangouts:
Simi Valley comes alive in the evenings with a variety of entertainment options for residents to enjoy. Those seeking a musical experience can head to Judge Roy Bean's or the Arena Sports Bar & Grill, where live music from bands and DJs fills the air, setting the perfect backdrop for a night out. For a good dose of laughter, JRs Comedy Club offers a venue where comedic talents take the stage, providing an evening of humor and entertainment. Harley's Simi Bowl offers a unique combination of bowling and live music at its Rock N Roll Pizza Bar, creating an atmosphere of fun and energy. Whether it's enjoying live music, getting a dose of laughter, or engaging in friendly competition, Simi Valley provides a dynamic array of evening activities that cater to diverse preferences and create memorable nights for all.
Real Estate:
In Simi Valley, real estate options are diverse and encompass a range of master-planned communities that cater to various lifestyles. Notably, two prominent master-planned communities, Big Sky and Wood Ranch, offer exceptional living environments. Big Sky, nestled in the hills on the North side of the 118 freeway, features subdivisions like Bluffs, Glenmeadow, Highlands, Plum Creek, Tioga, and Walnut Grove, each providing unique characteristics and settings. Wood Ranch is renowned for its attractive subdivisions, including Autumnwood, Cantrice Court, Cross Creek, East Ridge, and many others. These neighborhoods offer an array of housing choices from single-family homes to townhomes. Additionally, sought-after neighborhoods such as Bridle Path, Wildhorse Canyon, Indian Hills Ridge, and Sinaloa Highlands contribute to Simi Valley's vibrant real estate landscape. As prospective homeowners explore Simi Valley's offerings, they are met with a variety of master-planned communities and neighborhoods that showcase the city's commitment to providing a diverse and welcoming living environment.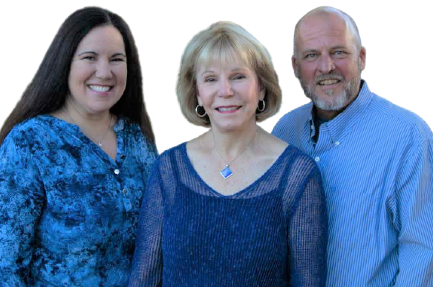 Meryll Russell, Sharron Parker & Jon Niemann
Have Questions?
Click the button below so we can show you our five star service.
Your Ventura County Realtor Team
CalDRE 01435748, 00900167 & 02104018
This information is for your personal, non-commercial use and may not be used for any purpose other than to identify prospective properties you may be interested in purchasing.
Display of MLS data is usually deemed reliable but is NOT guaranteed accurate by the MLS.
Buyers are responsible for verifying the accuracy of all information and should investigate the data themselves or retain appropriate professionals.
Information from sources other than the Listing Agent may have been included in the MLS data.
Unless otherwise specified in writing, Broker/Agent has not and will not verify any information obtained from other sources.
The Broker/Agent providing the information contained herein may or may not have been the Listing and/or Selling Agent.