Search 805 Homes
Newbury Park
Homes for Sale in Newbury Park, CA
Newbury Park Homes For Sale
Newbury Park Real Estate Communities
Location:
Nestled within the city of Thousand Oaks, Newbury Park boasts a strategic location adjacent to the bustling 101 freeway, just before the descent of the Conejo Grade that leads into the picturesque Camarillo. This prime positioning provides residents with seamless access to major transportation routes, facilitating convenient travel within the region. With a mere 45-minute drive to the captivating city of Santa Barbara and approximately an hour's journey to the vibrant heart of Los Angeles, Newbury Park offers the best of both worlds – the tranquility of a suburban haven with the accessibility to urban centers. Adding to its allure, the Camarillo airport and train station are just a short 10-minute drive away, enhancing the area's connectivity and making travel a breeze for residents. Embracing the best of Southern California, Newbury Park's location is a gateway to a wealth of opportunities and experiences in every direction.
History:
With its roots tracing back to 1875, Newbury Park's rich history spans well over a century. The town's name is a homage to Egbert Starr Newbury, the inaugural postmaster of the Conejo Valley, who played a pivotal role in the community's early days. The evolution of Newbury Park took a significant turn when it became integrated into Thousand Oaks through a community vote during the 1960s and 1970s. A historical landmark, the Stagecoach Inn, originally named the Grand Union Hotel, was established in 1876 in the vicinity of today's Ventu Park on the 101 freeway. Today, the Stagecoach Inn Museum stands as a testament to the hotel's legacy, preserving a piece of Newbury Park's past. Additionally, the region of Satwiwa, nestled within the Santa Monica Mountains National Recreation Area, holds profound historical significance as the habitat of numerous Native American tribes. The Native American Indian Culture Center, located near the main trailhead, offers weekend workshops that provide insight into this rich heritage, connecting the present to the area's vibrant history.
Population/Weather:
Newbury Park, with its population of approximately 45,000 residents, enjoys a close-knit and vibrant community atmosphere. The town is favored by a pleasantly moderate climate, characterized by an average temperature of 70 degrees Fahrenheit that remains consistent throughout the year. This ideal weather fosters an inviting environment for outdoor activities and a comfortable lifestyle. Notably, Newbury Park's commitment to safety has garnered it consistent acclaim as one of the safest places to live in the United States, reflecting the city's dedication to creating a secure and peaceful living environment for its residents.
Schools:
Newbury Park takes great pride in its educational landscape, as evidenced by the impressive rankings of its schools on www.GreatSchools.org. Among these institutions, Newbury Park High School stands out as a remarkable example, being one of only two International Baccalaureate schools in Ventura County. The city places a strong emphasis on providing quality education at all levels. For junior high students, there are options such as Sequoia Middle School and the K-8 Sycamore Canyon School located in the charming Dos Vientos community. The city's dedication to comprehensive education extends to its elementary schools, including Cypress Elementary, Maple Elementary, Banyan Elementary, Sycamore Canyon, and EARTHS (Environmental Academy of Research Technology and Earth Sciences). With a range of educational options that promote academic excellence and a well-rounded development, Newbury Park's schools play a vital role in shaping the future of its young residents.
Parks:
Newbury Park is a haven for outdoor enthusiasts, offering an impressive array of parks that cater to a wide range of recreational activities. From the thrill of soccer and baseball to the excitement of basketball, water polo, swimming, softball, lacrosse, and football, the city's parks provide a canvas for various sports and interests. Noteworthy among these are Rancho Conejo Playfield, Borchard Community Park, Kimber Park, Dos Vientos Community Park, Sycamore Neighborhood Park, Conejo Creek North Park, Hill Canyon Park, Stagecoach Inn Park, Wendy Park, Pepper Tree Playfield, and Old Meadows Park. Each park is thoughtfully designed to provide a space for families, friends, and athletes to gather and enjoy the outdoors, fostering a sense of community and well-being. Newbury Park's commitment to providing ample green spaces underscores its dedication to enhancing the quality of life for its residents and visitors.
Sports:
Newbury Park is a haven for sports enthusiasts, with its strategic location near the captivating Santa Monica Mountains and the iconic Boney Mountain. This prime location beckons outdoor aficionados to engage in a variety of exhilarating activities such as hiking, trail running, and mountain biking. The region's diverse landscape and scenic trails make it an ideal destination for these outdoor pursuits. Adding to its sporting offerings, Newbury Park is home to the charming Rancho Potrero Community Equestrian Center, providing an idyllic boarding facility for horse lovers. Trail riding enthusiasts are treated to exceptional experiences with awe-inspiring views and a terrain that offers both challenge and beauty. For those seeking indoor excitement, the popular MB2 Raceway Indoor Go Kart Facility and MVP Indoor Batting Cages offer thrilling options. Whether basking in the outdoor splendor or seeking indoor thrills, Newbury Park's sports scene caters to a diverse range of interests, making it a hub of activity for both locals and visitors alike.
Employers:
Newbury Park stands out with its impressive array of top employers that play a significant role in the local economy. Leading this lineup is Amgen Biotech, a prominent name in the biopharmaceutical industry. SAGE Publishing, renowned for its academic and educational materials, also stands as a notable contributor to the town's employment landscape. Salem Media Group, a prominent media company, and Verengo Solar, a leader in renewable energy solutions, further enrich the roster of distinguished employers. SEI Pharmaceuticals adds to this list as a key player in the pharmaceutical sector. Beyond these industry giants, Newbury Park fosters a thriving ecosystem of small and medium-sized businesses spanning diverse sectors such as retail, healthcare, technology, and more. This diverse economic fabric not only supports the local community but also contributes to the town's dynamic and vibrant employment sector, further solidifying Newbury Park's position as an economic hub in the region.
Events:
Throughout the year, Newbury Park embraces a vibrant spirit of community engagement through a diverse range of events that cater to residents and visitors alike. Among these, the city proudly hosts the prestigious Amgen Tour of California, a thrilling cycling event that draws participants and spectators from far and wide. The Stagecoach Inn Pioneer Jamboree pays homage to the town's rich history with a charming celebration. Arts & Crafts Festivals showcase local creativity and talent, while the 4th of July Pancake Breakfast and the Mud Run bring the community together in festive and active ways. These events, along with a plethora of other engaging activities, contribute to the vibrant social fabric of Newbury Park, fostering a sense of unity and excitement that residents look forward to year-round.
Restaurants:
Newbury Park's culinary landscape is a tapestry of flavors, offering a wide variety of beloved restaurants that cater to diverse tastes. Islands, Country Harvest, Holdren's Steak and Seafood, Pickles, Habanero, Waffle Experience, Chili's, Patron Mexican Bar & Grill, Exotic Thai Café, Sumo Sushi, and the Alamo are among the culinary gems that grace the town. From the laid-back atmosphere of Islands to the hearty offerings at Country Harvest, and the fine dining experience at Holdren's, each establishment brings a unique touch to the dining scene. Whether it's the comfort food at Pickles, the spicy delights at Habanero, the innovative creations at Waffle Experience, or the flavors of Mexico at Patron Mexican Bar & Grill, these restaurants contribute to Newbury Park's vibrant culinary tapestry. Exotic Thai Café, Sumo Sushi, and the Alamo further enrich the options, providing a blend of international flavors. Together, these dining destinations create a dynamic and diverse culinary scene that caters to every palate and enhances the town's vibrant atmosphere.
Shopping:
For shopping enthusiasts, Newbury Park and its neighboring cities offer a diverse and convenient array of options. The focal point of shopping in Newbury Park is the Village at Newbury Park, strategically located off the 101 Freeway at Wendy Drive. This vibrant center hosts anchor stores including Home Depot, Party City, Target, and T.J. Maxx, providing a comprehensive shopping experience. Many residents also frequent the Oaks Mall in Thousand Oaks, a prominent shopping hub where major retailers such as Macy's, Nordstrom, J.C. Penney, and Dick's Sporting Goods can be found, catering to a wide range of preferences. In addition to these options, the Camarillo Premium Outlets lure shoppers with their impressive selection of premium brands and stores, drawing residents from the surrounding areas for a diverse and fulfilling shopping adventure.
Evening Hangouts:
Evenings in Newbury Park and its neighboring cities are brimming with opportunities for entertainment and camaraderie. For local residents, Azar's Sports Bar & Grill is a beloved spot to unwind, offering music, dancing, karaoke, and a lively atmosphere that invites socializing. The community also eagerly anticipates Concerts in the Park events held in nearby cities, where music fills the air and families gather for outdoor enjoyment. Furthermore, neighboring towns like Westlake Village boast popular venues like Bogie's, which offers live entertainment and a vibrant nightlife scene. Oxnard's Levity Live stands as another hotspot, providing evenings filled with laughter through comedy shows. With a variety of options to choose from, whether it's dancing, music, comedy, or simply enjoying the company of friends, Newbury Park and its surroundings offer a plethora of ways to make the most of your evenings.
Real Estate:
Discover a range of exceptional real estate opportunities in Newbury Park, nestled in the heart of Southern California. This vibrant community is home to two expansive master-planned neighborhoods: Dos Vientos and Rancho Conejo. Within Dos Vientos, an array of thoughtfully designed tracts awaits, including Aldea, Avignon, Cielo Real, Concerto, Estancia, Gallery, Haciendas, Harvest Moon, La Cresta, La Entrada, Las Brisas, Lucera, Monte Rey, Palermo, Quintana, Sedona, Traditions, Treasures, Villa Encantado, Villa Serrano, Virazon, and Vizcaya. In the Rancho Conejo area, you'll find a selection of distinguished tracts such as Cambria, Executive, Montecito, Tapestry, Terraza, and Village Homes. These master-planned communities offer a diverse range of living options, from elegant estates to charming family homes, all within the picturesque landscape of Newbury Park. Explore the possibilities and find your perfect piece of real estate in this thriving Southern California destination.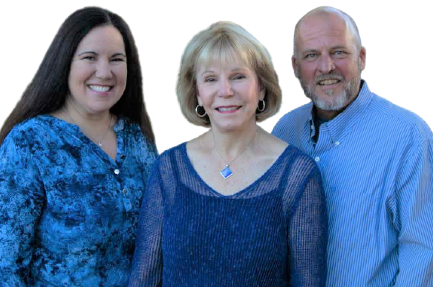 Meryll Russell, Sharron Parker & Jon Niemann
Have Questions?
Click the button below so we can show you our five star service.
Your Ventura County Realtor Team
CalDRE 01435748, 00900167 & 02104018
This information is for your personal, non-commercial use and may not be used for any purpose other than to identify prospective properties you may be interested in purchasing.
Display of MLS data is usually deemed reliable but is NOT guaranteed accurate by the MLS.
Buyers are responsible for verifying the accuracy of all information and should investigate the data themselves or retain appropriate professionals.
Information from sources other than the Listing Agent may have been included in the MLS data.
Unless otherwise specified in writing, Broker/Agent has not and will not verify any information obtained from other sources.
The Broker/Agent providing the information contained herein may or may not have been the Listing and/or Selling Agent.