Search 805 Homes
Oxnard
Homes for Sale in Oxnard, CA
Oxnard Real Estate Communities
Location:
Nestled along the picturesque coast, Oxnard boasts a prime location just off the 101 freeway, positioned north of Camarillo and south of Ventura. With Santa Barbara a mere 25 minutes away and Los Angeles approximately an hour and a half's drive, Oxnard enjoys the best of both worlds – a coastal haven within convenient reach of major urban centers. Commuters and travelers are well-served by the city's own train station, offering seamless travel options through Amtrak and Metrolink trains. Moreover, Oxnard accommodates those who prefer air travel with a small airport catering to privately-owned aircraft, further enhancing the city's accessibility. Whether for leisurely escapes or business ventures, Oxnard's strategic location presents a gateway to diverse experiences and opportunities along the Southern California coastline.
History:
Oxnard's history is rich and steeped in both industrial and strategic significance. In 1903, the city of Oxnard was officially established, its name paying homage to Henry Oxnard, the visionary behind the American Crystal Sugar Company. Under his guidance, a sugar beet processing factory was constructed, setting the foundation for the city's industrial growth. The city's strategic coastal location played a pivotal role in its history, leading to the establishment of the Naval Air Base Point Mugu and Port Hueneme naval bases. Oxnard's position as the only significant accessible port along the Californian coastline between Los Angeles and San Francisco Bay made it a prime choice for these vital bases. This strategic location also attracted prominent companies like Del Monte Foods, Chiquita, BMW, Land Rover, and Jaguar, all of which utilize the port for their operations. Adding to its maritime significance, Oxnard boasts the Channel Islands boat harbor, exemplifying the city's historical and ongoing relationship with the sea.
Population/Weather:
Oxnard, the largest city in the county, boasts a vibrant community of approximately 210,000 residents. The city's climate is akin to the Mediterranean, characterized by mild, wet winters and warm, dry summers. Oxnard is blessed with an enviable weather pattern that entices outdoor enthusiasts and beach lovers alike. The city enjoys a year-round pleasant climate with moderate temperatures, offering an ideal setting for various activities. The daily temperature range remains comfortable, with pleasantly cool summers and pleasantly warm winters. The annual average rainfall of 14.4 inches is concentrated mainly from January to March, ensuring the landscape remains lush and vibrant. What sets Oxnard apart is its exceptional air quality, which stands out even in the context of Southern California. This advantage can be attributed to the city's coastal location and other contributing factors, making Oxnard an inviting destination to live, work, and explore.
Schools:
Oxnard takes pride in its extensive and diverse educational offerings within the Oxnard Union School District. The city's elementary and middle schools are integral components of this district, providing quality education to its students. The Oxnard Union High School District oversees the city's high schools, which serve as pillars of education for the local community. This district plays a vital role in nurturing a diverse student body hailing from Oxnard, Camarillo, and Port Hueneme. With a remarkable count of 54 school campuses situated in the city and its surrounding areas, Oxnard is committed to fostering a comprehensive and inclusive educational environment. A staggering 53,000 students actively engage in the public-school K-12 program, underscoring the city's dedication to empowering the next generation through education.
Parks:
Oxnard boasts an extensive network of 36 parks that span across 297 acres, offering abundant green spaces for residents and visitors to enjoy. Beyond the parks, the city takes pride in maintaining 81 miles of beautifully landscaped medians and parkways, providing a scenic backdrop for both pedestrians and motorists. Moreover, Oxnard preserves 129 acres of open space, ensuring that natural beauty is integrated into the urban landscape. The city's commitment to a vibrant environment is also reflected in its impressive collection of 52,095 city trees, valued at an estimated $158.3 million. This remarkable arboreal abundance has earned Oxnard the esteemed Tree City USA designation, a recognition it has proudly held since 1984. As a result, Oxnard stands as a shining example of a city that prioritizes the preservation and enhancement of its natural surroundings, contributing to the overall well-being and quality of life for its residents.
Sports:
Sports enthusiasts will find Oxnard to be a paradise for outdoor activities, especially with the city's favorable weather. Golf aficionados will relish the opportunity to play their favorite sport amidst stunning landscapes. Oxnard boasts notable courses like River Ridge Golf Course, Seabee Golf Course, and Buenaventura Golf Course, offering both challenges and scenic views. For family-friendly fun, miniature golf courses are also available. Moreover, the city's coastal charm lends itself to aquatic adventures. Exploring Channel Islands Harbor through kayaking and paddleboarding unveils a world of luxury homes and boats, all while being surrounded by California's picturesque sea lions. Whether you're perfecting your swing on the golf course or gliding through the sparkling waters, Oxnard provides a haven for sports enthusiasts seeking outdoor exhilaration and unforgettable experiences.
Employers:
Oxnard's economic landscape thrives with a diverse range of industries, including manufacturing, agriculture, financial services, defense, international trade, and tourism. The Naval Base Ventura County (NBVC) stands as the city's largest employer and the largest industry within Ventura County, employing over 17,000 personnel encompassing both military and civilian roles. This stronghold of military presence not only provides significant employment opportunities but also makes substantial contributions to the regional economy. In addition to the military, Oxnard's auto dealership sector is a key employer, with establishments like Alexander Buick GMC Cadillac, Carmax, DCH Audi, Honda, Lexus, Mercedes Benz, Team Nissan, Oxnard Vineyard Chevron, Toyota, and Vista Ford Lincoln Mercury offering employment to many residents. The city also hosts notable companies such as Procter & Gamble, Haas Automation, Valley Fuel Supply, and Tesoro Refinish & Marketing, all of which contribute to Oxnard's vibrant economic fabric.
Events:
Oxnard is a city rich in cultural and artistic offerings, highlighted by a robust library system and a range of unique amenities. One standout attraction is the Carnegie Arts Museum, Ventura County's sole museum dedicated to the Fine Arts. Beyond showcasing art, the museum also hosts a variety of engaging activities such as classes, workshops, lectures, tours, and artist events, fostering a vibrant creative community. The city's cultural assets span across various districts and venues, including the Civic Center District, the Henry T. Oxnard Historic District, Oxnard Performing Arts and Convention Center, Plaza Entertainment and Arts District, Heritage Square, the New West Symphony, Downtown Theatre, Chandler Vintage Museum of Transportation and Wildlife, Channel Islands Maritime Museum, and Gull Wings Children's Museum. Throughout the year, residents and visitors alike can enjoy an array of festivals and events, such as the Strawberry Festival, Oxnard Independent Film Festival, Channel Islands Tall Ships Festival, and Oxnard Salsa Festival, all of which contribute to Oxnard's vibrant and diverse cultural scene.
Restaurants:
Oxnard, California, boasts a diverse and enticing array of dining options that cater to a wide range of tastes. For lovers of Mexican cuisine, Yolanda's Mexican offers flavorful dishes that capture the essence of traditional flavors. Tierra Sur at Herzog Wine Cellars combines fine dining with a touch of elegance, where guests can savor exquisite dishes paired with exceptional wines. For a charming breakfast experience, Mrs. Olson's Coffee Hut delights with its cozy atmosphere and hearty breakfast fare. Sea Fresh Channel Islands is a must-visit for seafood enthusiasts, offering fresh catches from the local waters. Yard House stands as a hub for craft beer enthusiasts, while Cheesecake Factory entices with its extensive menu of American classics and indulgent desserts. Larsen's Grill promises a sophisticated steakhouse experience, while Red Lobster, Outback Steakhouse, and Olive Garden bring beloved chain dining options to the mix. The Brazilian steakhouse Texas de Brazil invites patrons to indulge in a carnivore's dream, while Ox and Ocean offers a fusion of Mediterranean and California flavors. For those seeking a lively atmosphere, The Raven showcases live music and pub-style dining. Finally, Waterside Restaurant offers waterfront dining with picturesque views. In Oxnard, dining is an adventure with an array of options to explore and enjoy.
Shopping:
Oxnard offers a variety of shopping destinations that cater to different preferences and needs. The Oxnard Collection at Riverpark takes the lead as the largest shopping mall in the city, boasting anchor stores like Target, REI, and the Container Store, along with an array of smaller shops and dining establishments. Just across the 101 freeway, another shopping area features prominent box stores including Home Depot, Nordstrom Rack, TJ Maxx, Staples, and Party City. The Rose Shopping Center further enriches the shopping landscape with a Walmart Superstore, Sam's Club, Ross, Joann's, PetSmart, and Hobby Lobby. Additionally, the Pacific View Mall in nearby Ventura offers an indoor shopping experience, anchored by Target, Macy's, and JC Penney. With a mix of malls, shopping centers, and diverse retailers, Oxnard provides a comprehensive shopping experience that caters to a wide range of preferences and needs.
Evening Hangouts:
As the sun sets in Oxnard, the city comes to life with a variety of evening activities to enjoy. The Oxnard Collection at Riverpark transforms into a hub of entertainment, offering live music at Copper Blues, comedy shows at Levity Live, and a vibrant atmosphere at Yard House and other bars and restaurants. For those seeking waterfront charm, The Raven at Seabridge treats visitors to live music on the weekends, creating a lively backdrop for socializing. The allure of the water extends further with the option of a sunset cruise, allowing you to bask in the breathtaking coastal views as you glide across the serene waters. Whether you're in the mood for music, laughter, or the tranquility of the sea, Oxnard offers a diverse range of evening activities to make the most of your nights in this coastal city.
Real Estate:
Oxnard's real estate landscape boasts a remarkable blend of availability and affordability, making it a prime destination for home seekers of all ages and lifestyles. With an array of housing types, the city caters to diverse preferences, ensuring there's a perfect fit for everyone. Historic neighborhoods exude charm, while mixed-use housing offers convenience and flexibility. Waterfront properties provide a dreamy coastal lifestyle, while residential areas nestled along tree-lined streets, parks, trails, and beaches offer a serene living experience. The burgeoning Seabridge area introduces modernity by the water, featuring single-family homes with boat slips, townhomes, and condos. Another attractive option is Riverpark, a newer development showcasing an array of homes, townhomes, and condos. The Channel Islands area along the ocean encompasses Hollywood Beach, Oxnard Shores, Oxnard Dunes, Harbour Island, and Silverstrand, presenting a range of coastal living choices. Oxnard's real estate market boasts diversity, accessibility, and the perfect home for every discerning buyer.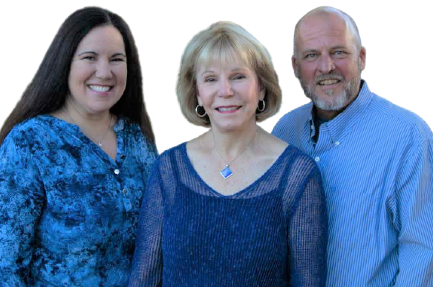 Meryll Russell, Sharron Parker & Jon Niemann
Have Questions?
Click the button below so we can show you our five star service.
Your Ventura County Realtor Team
CalDRE 01435748, 00900167 & 02104018
This information is for your personal, non-commercial use and may not be used for any purpose other than to identify prospective properties you may be interested in purchasing.
Display of MLS data is usually deemed reliable but is NOT guaranteed accurate by the MLS.
Buyers are responsible for verifying the accuracy of all information and should investigate the data themselves or retain appropriate professionals.
Information from sources other than the Listing Agent may have been included in the MLS data.
Unless otherwise specified in writing, Broker/Agent has not and will not verify any information obtained from other sources.
The Broker/Agent providing the information contained herein may or may not have been the Listing and/or Selling Agent.