Search 805 Homes
Camarillo
Homes for Sale in Camarillo, CA
Camarillo Real Estate Communities
Location:
Nestled to the northwest of Thousand Oaks and flanked by the 101 Freeway Conejo Grade, Camarillo boasts a strategic location that offers both convenience and accessibility. Situated just a 45-minute drive away, Santa Barbara becomes an easy escape, while the bustling energy of Los Angeles can be reached in about an hour. Commuters and explorers alike benefit from the presence of Camarillo's own train station, facilitating seamless travel options through Amtrak and Metrolink services. Furthermore, a small yet accommodating airport provides a gateway for privately-owned aircraft. Camarillo's prime location affords residents and visitors the privilege of swift connections to nearby cities and a gateway to adventure.
History:
The roots of Camarillo, California, stretch back to its founding in 1898, a tribute to the Spanish pioneer Adolfo Camarillo. Adolfo's indelible mark is intricately woven into the city's history, encompassing his stewardship of a flourishing cattle ranch that spanned over six decades and his transition into cultivating crops. Camarillo's essence reverberates with the legacy of Adolfo, a testament to his lasting influence. An epitome of this historical significance is the Camarillo Ranch House, Adolfo's elegant 14-room, 6000-square-foot abode nestled beneath the grandeur of an oak tree. This cherished landmark stands as a testament to Camarillo's commitment to preserving its historical allure, often serving as a backdrop for various special occasions throughout the year, offering a glimpse into the city's rich past.
Population/Weather:
Camarillo, California, is home to approximately 65,000 residents who enjoy the benefits of a remarkably temperate climate. With an average temperature of 70 degrees year-round, the city offers an inviting environment for its inhabitants. The city's exceptional livability has garnered recognition from The Wall Street Journal, which ranked Camarillo at an impressive #23 on its list of "America's 50 Best Cities to Live." This accolade underscores the city's commitment to providing its residents with a high quality of life, making Camarillo a desirable and welcoming place to call home.
Schools:
Camarillo, California, prides itself on its commendable standing within the educational realm, garnering noteworthy rankings on the esteemed platform www.GreatSchools.org. The city is enriched by the presence of the prestigious Cal State Channel Islands University, a source of local pride and academic excellence. Under the purview of the Oxnard Union School District, Camarillo is home to distinguished high schools including Camarillo High and Rancho Campana High, with some students also attending Rio Mesa High. The foundation of elementary education is fortified by the Pleasant Valley School District, overseeing institutions such as Camarillo Academy of Progressive Education (CAPE), Camarillo Heights STEM Academy, Dos Caminos, La Mariposa, Las Posas, Pleasant Valley School of Engineering and Arts (PVSEA), Rancho Rosal, Santa Rosa Technology Magnet, and Tierra Linda. The city's commitment to comprehensive education extends to its junior high schools, including Las Colinas and Monte Vista, underscoring Camarillo's dedication to providing a well-rounded educational experience for its diverse community.
Parks:
Camarillo, California, is a haven for recreational enthusiasts, boasting a dynamic selection of parks that cater to a multitude of interests. From soccer and baseball to basketball, BMX, hockey, water polo, swimming, softball, lacrosse, and football, these parks offer a wide spectrum of sporting opportunities. An exceptional feature is Camarillo's pride in being the residence of the largest AYSO league west of the Mississippi, embodying the city's passion for sports and community engagement. With a robust collection of 28 parks, including 3 dedicated dog parks, as well as an array of well-equipped sports fields and facilities, Camarillo stands as a testament to the city's commitment to providing its residents with a diverse and vibrant range of recreational spaces.
Sports:
Camarillo, California, embraces a dynamic sports scene that caters to a variety of interests. Golf enthusiasts have reason to rejoice, as the city is home to several esteemed courses including Spanish Hills Country Club, Las Posas Country Club, Sterling Hills Golf Club, and Camarillo Springs Golf Course, each offering a unique golfing experience within the city's bounds. Beyond the greens, indoor leisure finds its place at Harley's Bowling Alley, a beloved destination cherished by many residents for its recreational offerings. Camarillo's commitment to providing a diverse array of sports and leisure options underscores its dedication to fostering a vibrant and active community for all to enjoy.
Employers:
Camarillo, California, boasts a thriving economic landscape characterized by a range of prominent employers that significantly contribute to the city's growth and success. Notable entities such as CSUCI, the Pleasant Valley School District, St. John's Hospital, Marz Farms, Ventura County Star, Harbor Freight, and Semtech form the bedrock of Camarillo's economic prosperity. These diverse establishments play integral roles in the city's economic fabric, reflecting its vibrancy and resilience. Camarillo's economic synergy is a testament to its commitment to fostering a robust and thriving community, ensuring a sustainable future for its residents and businesses alike.
Events:
Camarillo, California, pulsates with a vibrant array of annual events that foster a strong sense of community engagement and celebration. The city's calendar comes alive with a diverse range of captivating occasions, showcasing its rich cultural tapestry and lively spirit. From the Chili Cook-Off & Music Festival and Fiesta to the Taste of Camarillo and Wings Over Camarillo Air Show, these events offer residents and visitors alike a chance to revel in the city's dynamic atmosphere. The Greek Festival, Summer Concerts & Movies in the Park, and the mesmerizing Christmas Tree Lighting ceremony further contribute to the city's vibrant tapestry of festivities. Camarillo's annual events serve as a testament to its commitment to nurturing a strong sense of unity, culture, and shared experiences among its community members.
Restaurants:
Camarillo, California, beckons food enthusiasts with an eclectic culinary scene that caters to a wide spectrum of tastes. The city boasts an impressive selection of dining establishments, including the likes of Latitude 34, Twenty 88, Slate, Lure Fish House, Manhattan, Ottavios, Cracker Barrel, Wood Ranch BBQ, Finney's Crafthouse, Waypoint Café, Bistro 13, Lucerne, and many more. This diverse lineup of restaurants collectively offers a tantalizing array of flavors, ensuring that there's something to satiate every palate. Camarillo's restaurant scene is a reflection of its commitment to providing residents and visitors alike with a memorable gastronomic experience, contributing to the city's vibrant and thriving cultural fabric.
Shopping:
Camarillo, California, invites shoppers to indulge in a rewarding retail experience, with the pinnacle being the Camarillo Premium Outlets. This shopping haven stands as a testament to the city's commitment to providing a premier shopping destination. Boasting three distinct sections of stores, the outlets offer a diverse selection of brands and products to cater to various tastes and preferences. Beyond shopping, the outlets present a well-rounded experience with additional amenities including a movie theater and an enticing array of dining options. Camarillo's dedication to creating a comprehensive shopping experience at the Premium Outlets underscores its reputation as a prime destination for retail therapy and a dynamic hub for both residents and visitors alike.
Evening Hangouts:
As daylight fades, Camarillo, California, comes alive with a captivating nightlife that invites residents and visitors to unwind and enjoy the evening. The city offers an array of hotspots where the night is adorned with live music and entertainment. Destinations like The Manhattan, Onyx Wine Bistro, Institution Ale, and Ric's Sports Bar, Slate set the stage for memorable nights, catering to a diverse range of tastes and preferences. Whether it's the soothing melodies of live music or the energetic ambiance of sports bars, Camarillo's evening scene provides an inviting backdrop for socializing and relaxation, ensuring that there's a perfect spot for everyone to enjoy a night out on the town.
Real Estate:
Explore the thriving real estate landscape in Camarillo, California, boasting a rich tapestry of diverse neighborhoods and communities. From the sought-after locales of Mission Oaks, Santa Rosa Valley, and Village at the Park to the upscale enclaves of Pinnacle, Camarillo Heights, and Spanish Hills, the city offers an array of options for every discerning buyer. Discover the elegance of Las Posas Estates, Bella Rosa, and Bella Vista Estates, or explore the charm of Regency Homes, Vina del Mar, and Woodside Green. Camarillo's real estate allure extends beyond the conventional, catering to specialized needs with communities like Leisure Village, an idyllic retirement haven for seniors seeking an enriched lifestyle. Adding to the appeal is The Grove 55+ community, embodying the city's commitment to providing diverse and enticing residential choices for all.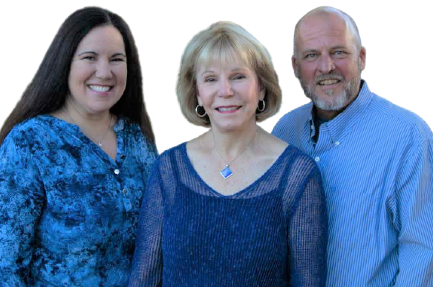 Meryll Russell, Sharron Parker & Jon Niemann
Have Questions?
Click the button below so we can show you our five star service.
Your Ventura County Realtor Team
CalDRE 01435748, 00900167 & 02104018
This information is for your personal, non-commercial use and may not be used for any purpose other than to identify prospective properties you may be interested in purchasing.
Display of MLS data is usually deemed reliable but is NOT guaranteed accurate by the MLS.
Buyers are responsible for verifying the accuracy of all information and should investigate the data themselves or retain appropriate professionals.
Information from sources other than the Listing Agent may have been included in the MLS data.
Unless otherwise specified in writing, Broker/Agent has not and will not verify any information obtained from other sources.
The Broker/Agent providing the information contained herein may or may not have been the Listing and/or Selling Agent.